According to Wikipedia, there are approximately seventeen million intermodal freight containers (A.K.A. shipping containers) in the world. Yes, you read that right. We're talking about the big metal rectangles that travel on the backs of semi-trucks, trains, and ships to transport goods across cities, states, countries, even oceans. Today, we want to talk a little bit about the second life these industrial containers have been getting after their "retirement". The recycling and repurposing of shipping containers, known as "Cargotecture," isn't exactly news. For years now, they've been used to build to homes, commercial buildings, and housing additions. Today, we're taking a look at a few ways some brilliant people and companies have repurposed shipping containers.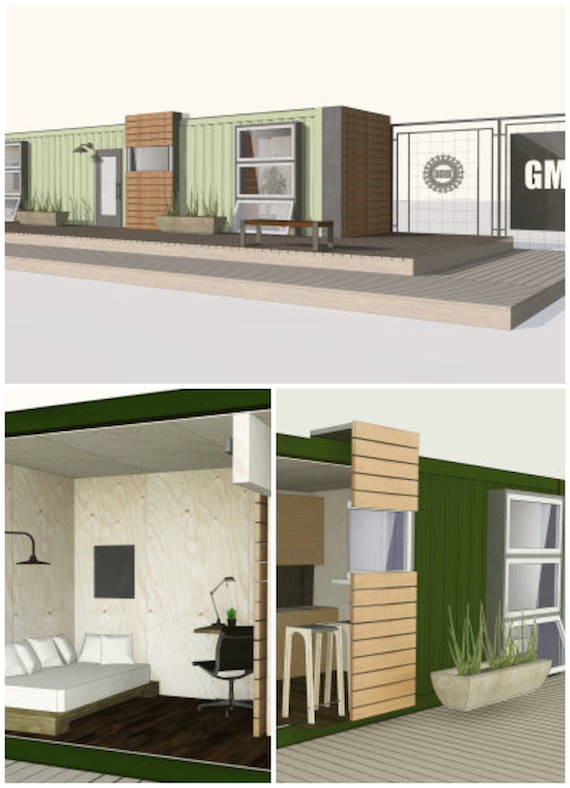 General Motors is collaborating with the Michigan Urban Farming Initiative, which takes vacant land and repurposes it for better use. GM has built Detriot's first homestead made of recycled materials. The home (pictured in an artist's rendering above) will be occupied by a college student studying urban agriculture. The student conducting the urban farm study will serve as caretaker and will maintain the farmland around the property.
Seven colorful containers found new life as a library in Batu, Indonesia. The library is home to 6,000 books, and each of the containers acts as a different section. The green one is the main lobby, the red houses science and technology texts, the blue has entertainment books, and the yellow acts as a women's reading room. One of the best parts? These containers were only about $820 each.
Starbucks erected a drive-through cafe in Tukwila, Washington from four containers, which equals about 450 square feet of interior space. The space is enough to house three baristas in an area comparable to the size of the working area in a regular Starbucks store. We applaud large companies who come up with unique ways to increase sustainability and reduce environmental and operating costs.
This Ecopod pied-a-terre in Toronto acts as a mini retreat built to function off the grid. With flooring made from recycled rubber and thermal insulation consisting of soy-based products, this Ecopod is truly eco-friendly.
You'd probably never guess upon first glance that the Redondo Beach House in Manhattan Beach, California, is fabricated from eight shipping containers. This is a shining example of how repurposed containers don't have to give a home an industrial look. This elegant, clean-looking beach house has even won coveted architectural awards.
Les Grandes Tables, a restaurant in Paris, has been designed to maximize light and air and also contains a greenhouse and garden, which provides the chef with fresh produce. The construction of this restaurant complements the sustainability focus on sourcing organiz food and wines from renewable resources.
Container-based construction isn't limited to residential and commercial buildings. Israeli architect Yoav Messer is in the final design stages of his Ecotainer Bridge which will be located in Ariel Sharon Park in Israel, an urban nature park centered on environmental ecology and sustainability.
Do you have any experience with repurposed shipping containers? What other brilliant examples have you seen of this unique type of architecture?