Contrary to what some real estate agents and home sellers believe, open houses are not a thing of the past. Many agents have come to this conclusion based on either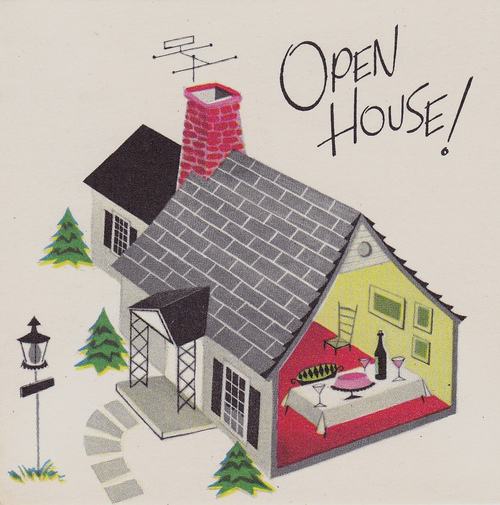 their experiences or statistics presented by others. While it's true that 92% of buyers use Internet searches as their main resource when shopping for a new home, smart sellers and agents understand how to use that fact to their advantage. Read on to see how modern real estate agents and sellers hold successful open houses.
Organize an Internet marketing campaign. You don't have to be particularly tech-savvy to appeal to those buyers who primarily conduct their home searches online. Grab their attention by organizing an Internet marketing campaign. Most home search websites like Realtor.com, Zillow, and Trulia allow you to post open houses to listings. When a prospective buyer finds a home they like, that open house invite could bring them in for a closer look. Post the invitation on social media and websites, and the odds of people showing up to your open house increase dramatically.
Don't forget traditional advertising. Postcards, letters, newspaper listings, yard signs, and agent invites don't have as far of a reach as Internet advertising does, but they can still be effective.
Go high-tech. It's always a good idea to have information packets ready for open house attendees. Usually, these packets consist of MLS printouts, more specific information about the house and neighborhood, maybe some extra photos of the house, loan information, and some business cards. In order to save trees and the cost of paper, think about going virtual. QR (Quick Response) Codes are a great way to provide information without handing over tons of handouts and forms. You've probably seen QR Codes here and there—little black and white square barcodes that you can scan with your smart phone. A QR Code might lead you to a website, a digital flyer, an online store, etc. In this case, use one to direct prospective buyers to information they can refer back to later—your home's website or listing, a floor plan, pictures, etc. You can also put them on any mailouts or invitations you send out in advance with information about the open house itself.
Prepare your home in advance. Once you and your Realtor have your marketing campaign down, it's time to tidy up for the open house. Clear clutter and do a good cleaning job before the big day. Pay attention to the products you use to clean; don't use products that have strong or clinical smells. Odors, whether noxious or pleasant, are one of the first things buyers notice when they walk in the front door, so take care not to use especially harsh cleansers or candles with overpowering scents.
Keep things neutral. Allow prospective buyers to imagine themselves living in your home. If you have a lot of personal or taste-specific items in your home, think about putting them away for the time being. Instead of looking at it as an inconvenience, take it as an opportunity to start packing for your upcoming move.
Shed a little light on things. Pull back the curtains, and open the blinds. Let in as much natural light as you can. It's the most flattering. If it's a nice day, open the windows and let in a little fresh air as well.
Amp up the curb appeal. You already know the inside of the house needs to be spotless and welcoming, but did you remember the outside? Don't forget that your lawn and exterior details will be the very first things open house attendees see. Make sure the lawn is mowed, the windows and any glass doors are clean, and the flower beds are weeded. If you need a punch of color, put a couple of potted flowers or plants out on the porch and a nice wreath on the front door.
Serve refreshments. You don't have to go all-out on this, and your real estate agent will usually take care of it. There are different degrees to which you can take this. If the open house is in a high-end home, you can certainly serve champagne and hors d'eouvres or have an espresso bar. But if you have a mid-priced suburban home, it's best to stick to small snacks and water or sodas. Make it as elegant or as homey as you like.
Stay away! If you're the owner of the home, it's best that you stay away from home during the open house. You don't want to be in the way or cause any awkard situations. Buyers might not be as comfortable looking around and giving their opinions when they know the owner is standing in the next room. Likewise, you might not appreciate any negative comments buyers have.
As you can see, successful open houses these days blend traditional details with modern technology and innovation. Get together with your Realtor and think of some creative ideas to attract prospective buyers. Just don't let him or her immediately dismiss it or refuse to hold an open house. The odds aren't incredibly likely that your home's next owner will happen to be driving by on the day of your open house...but stranger things have happened.